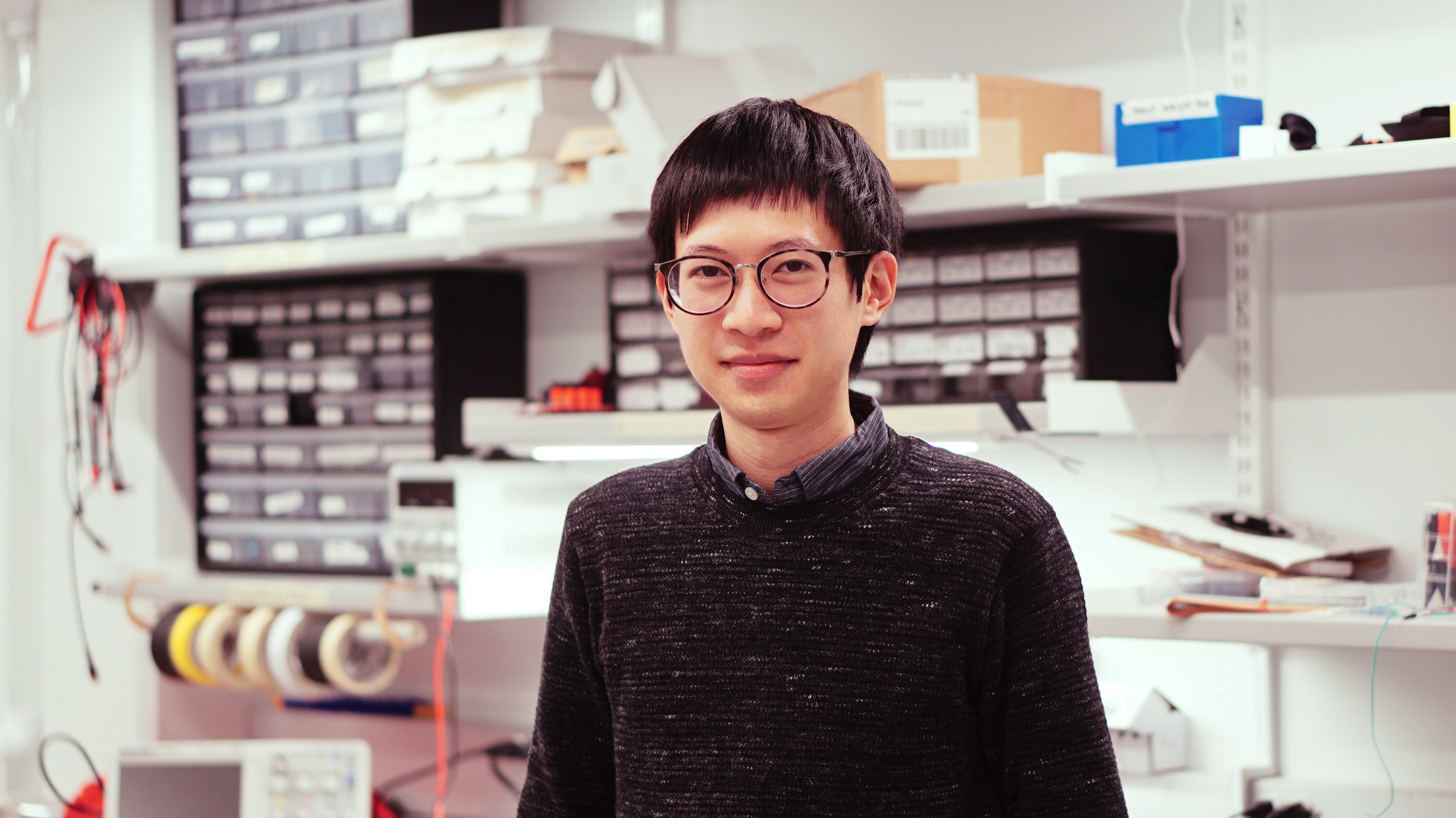 Shan-Yuan Teng is a PhD candidate in Computer Science at the University of Chicago advised by Prof. Pedro Lopes. Shan-Yuan's research aims at advancing a new generation of haptic interfaces (e.g., those that can create the sense of touch, forces, etc.) that exhibit properties that we became used to expecting from our mobile phones & wearables, such as extreme mobility, availability anytime, etc. To advance haptics into this new territory and grant it these novel properties, Shan-Yuan engineers custom-made interactive devices that, for instance: allow to feel touch in mixed reality without encumbering our fingerpads, or come with virtually infinite battery life. Shan-Yuan has published this work as 14 papers (six as the first author) at top Human-Computer Interaction (HCI) conferences including ACM CHI & UIST, with two Best Paper Awards and four Honorable Mention Awards.
Shan-Yuan was born in Taiwan, and received Master's degree in Computer Science & Bachelor's degree in Electrical Engineering at National Taiwan University.
[ tengshanyuan@uchicago.edu ] [ CV ] [ google scholar ] [ ORCID ]
news
2023-11-17 Shan-Yuan passed PhD candidacy exam (now a PhD candidate)!
(committee members: Pedro Lopes, Ken Nakagaki, Sean Follmer)
2023-10-31 Shan-Yuan's co-authored paper ThermalRouter was presented at UIST 2023 in San Francisco.
2023-10-25 Shan-Yuan gave a talk in HCI Lunch at Stanford University.
2023-09-30 Shan-Yuan demonstrated touch&fold at Chicago Southside Science Festival.
PhD research: enabling haptic experiences anywhere, anytime
vision articles
lead author papers
Prolonging VR haptic experiences by harvesting kinetic energy from the user

UIST 2022 Paper

🏅 Honorable Mention Award for Best Paper

touch&fold: a foldable haptic actuator for rendering touch in mixed reality

CHI 2021 Paper

🏅 Honorable Mention Award for Best Paper
collaborated papers
more research
TilePoP: tile-type pop-up prop for virtual reality

UIST 2019 Paper

🏅 Honorable Mention Award for Best Paper
🏅 Honorable Mention Award for Best Talk

Aarnio: passive kinesthetic force output for foreground interactions on an interactive chair

CHI 2019 Paper

Outside-In: visualizing out-of-sight regions-of-interest in a 360 video using spatial picture-in-picture previews

UIST 2017 Paper

Way Out: a multi-layer panorama mobile game using around-body interactions

CHI 2017 Student Game Competition

Stylus Assistant: designing dynamic constraints for facilitating stylus inputs on portable displays

SIGGRAPH ASIA 2016 Emerging Technologies

EMS Air Guitar: a music experience that moves your body using electrical muscle stimulation

UIST 2016 Student Innovation Contest

🏆 Best Implementation Award
artwork
神話 (Mythology)

an interactive sound installation using distance sensors.

National Taiwan University Art Festival 2014

八分之幾的乾燥空間 (The Umbrella Project)

a performance art on a rainy day.

National Taiwan University Art Festival 2013